About Winnipeg Team Mayhem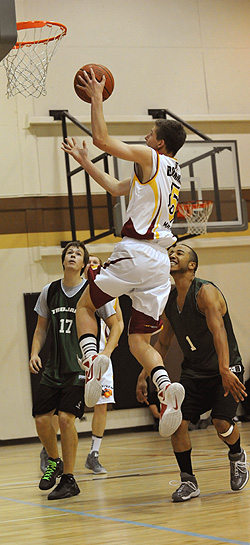 Winnipeg Team Mayhem is a Non-Profit Youth Basketball Organization based in Winnipeg, MB.
We are in our 9th year of operation and going strong.
Alex Barra - Director / Coach

Mauricio Barra - Director / Coach

Lloyd Celones - Coach
About Director - Alex Barra
Alex Barra has over 25 years coaching experience. Some of his careers highlights are:
6 years running Winnipeg Team Mayhem Basketball Club Teams.
Director of Winter, Spring and Summer Basketball Camps.
Coached Regional/Districts, High school, Jr. High, Elementary, and WMBA basketball teams.
Five years working at youth/teen drop-in centres.
8 years working at the YM-YWCA running basketball programs.
9 years running the Winnipeg Team Mayhem Basketball Club
Why do I like to coach?

I like to coach because I love the game of basketball. When played with heart and brains it seems like poetry. What I love more is that I am graced with the opportunity to affect kid's lives by offering an atmosphere of respect, safety, and guidance.

My goals are:

To be the kind of coach that gives a child an opportunity to learn, try, and yes, even fail. Without adversity you can never really appreciate the goals when a child does finally achieve them. I leave myself open to always learn more and never assume that I know everything because if I do believe this then I become complacent and then I will cease being effective as a coach.
My philosophy on coaching:
My philosophy is that a coach should not only be confident but also humble because as a coach you hold the power to positively affect a player's happy ever lasting childhood memories, or possibly taking their enjoyment of a sport away from a child for the rest of there lives.
Mission Statement
It is the goal of the Winnipeg Team Mayhem Basketball Club that an environment of trust and respect is fostered not only within the club itself, but also in all parts of our community.  It is essential to our philosophy that all parts of our community have an opportunity to participate regardless of economics or location.

The objective of understanding that the game of basketball can give participants lessons on the court, but also off the court is the cornerstone of our program.

The program strives to give players an opportunity to gain skills and confidence in areas of the game such as:
Playing all positions on the court.
Being introduced to higher levels of team defense concepts.
Continuously challenging the level of the players' individual skills.
Just as important is learning how to deal with adversity and still be looked upon with class in regards to how we deal with opponents, referees, spectators, and other coaches is vital to our mission.
STATEMENT OF GOALS AND OBJECTIVES
Developing year round opportunities for motivated players to broaden their basketball skills.
Design a multi-faceted program of age appropriate basketball skill development and competition for our teams.
Emphasize that good nutrition and overall physical and mental well-being is essential to doing well in life.
Develop an unwavering commitment among players, coaches and parents to the importance of education.
We will not refuse any child we offer a position in our Mayhem Program, because of financial difficulties. We will work together with parents/guardians, to make it possible for the child to play.