Basketball Camps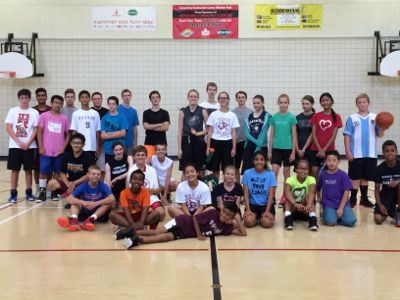 Winnipeg Team Mayhem Basketball Club is pleased to announced:
the dates and times for its 15Th Edition of our 2017 Christmas Training Camp Sessions.
We are offering up to 60 sessions from Wednesday, Decmeber 27, 2017 – Friday, January 5, 2018.
Click Here for a Registration Form!
Picture of Calvin Cristian Gym.
Click Here for a Information Form! (Dates, times, and locations)

Team Mayhem will now be offering access to our All Star Dr. Dish Shooting Machine to all campers participating in the Shooting Camp, and for the regular campers, in the shooting part of their sessions.
This camp is designed to prepare the camper for their upcoming spring basketball season, as well as the Team Manitoba Provincial Tryouts in May.
Important Information:
There are only 20 spots available for each session and registration is based on a first come first serve basis. If you wish to register your child, please email:
Coach Alex Barra (Director of Team Mayhem) alexbarra@hotmail.ca or call at
204-582-3678 / 204-295-2006
Sessions will be held at Calvin Cristian Collegiate - 706 Day St.
Camp Details:
Each session will have a dynamic warm-up and basketball specific conditioning component.
An hour of each session will have a rotation of drills to cover all aspects of the game of basketball, or shooting drills in the evening Shooting Camp.
All drills will have a physical component designed to focus on conditioning, strength, and balance.
As in all Mayhem programming, a high level of focus and effort level is expected.
For beginners, the sessions will teach concepts focusing on proper technique and willingness to try, rather than results.
The campers will use much of, if not all of the following equipment:
1.            Balance boards
2.            6 inch hurdles
3.            12 inch hurdles
4.            30 foot agility Ladders
5.            Ankle tension bands
6.            Kettle bells
7.            10 - weighted Men's basketballs
8.            10 - weighted Women's basketballs
9.            Football Large Blocking pads for Post Play
10.          Cones and Pylons
There are discounts if you wish to attend multiple sessions see Registration form. Please contact the Director, Alex Barra at alexbarra@hotmail.ca if you wish to discuss.
Camper can register for as many, or as few of the sessions they need.
Camper can do a combination of Day and Evening camps.